It's a long wait until Game of Thrones season 7 for us fans, but thankfully we're still in the post-glow of the beautiful and epic finale "The Winds of Winter," so outlets continue to milk the Thrones of it all for everything it's worth. It's a nice de-escalation from the rollercoaster season. Today, we get to see a bit of how season 6 was made, with 9 new behind-the scenes photos courtesy of TV Insider.
From Peniscola (Meereen) and Girona (Braavos), Spain to its home base of Belfast in Northern Ireland, the pics showcase showrunners David Benioff & D.B. Weiss on-set interacting with their actors and several seminal moments from the recent season. The cheery faces are disconcerting coming from the world of Westeros. Don't they know winter is coming?!
The first shot comes from the premiere, directed by Jeremy Podeswa who helmed the first two episodes of the season.
"In this scene from the Season 6 premiere, the Dothraki are shocked to find Daenerys speaks their language. So we had multiple cameras set up to cover all their reactions."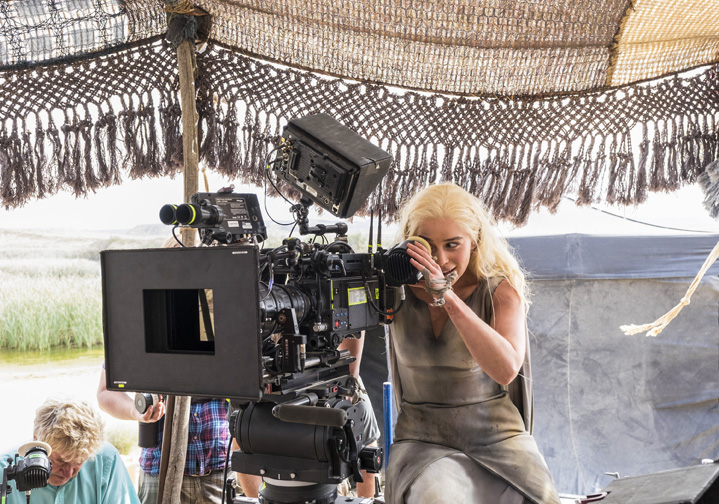 Some other interesting tidbits: snow was made on the show from very fine biodegradable paper and it takes two people to dress the Mountain (who stands 6'9″ and weighs 397 lbs.) in costume, with his armor made from lighter metal and smaller pieces to make it easier to apply and more comfortable to wear.
Click Next to check out eight other behind-the-scenes photos from the making of Game of Thrones season 6.