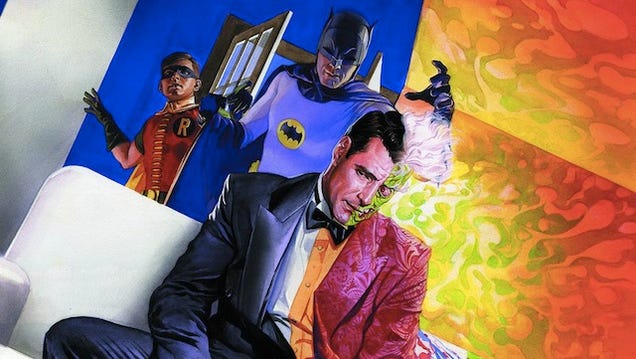 With New York Comic Con officially underway, news has been circulating left and right about all kinds of different properties. One of the big attractions at this year's event is the premier of Batman: Return Of The Caped Crusaders, the newest animated feature from DC to hit theaters. Bringing back stars of the beloved 1966 TV show such as Adam West, Burt Ward and Julie Newmar (as Batman, Robin, and Catwoman, respectively), the film is slated for a limited one-night release.
Hosted by Fathom Events, Batman: Return Of The Caped Crusaders can be seen on October 10th in select theaters, with three showings: 2 p.m., 7:30 p.m., and 10 p.m. That's not the only Batman '66 related information to come out of NYCC though.
It has been recently announced that Kirk himself, William Shatner, will be appearing in the sequel to Batman: Return Of The Caped Crusaders. He will be voicing notorious Bat-villain Two-Face, with the sequel scheduled to be released sometime in 2017.
Shatner is no stranger to participation in big franchises, having made his name starring in the Star Trek television series of the 1960's. It is also worth noting that during the initial Batman TV series ,which these movies are based on, Two-Face was never used, despite plans to do so initially. This will be the first interaction, besides a comic, of Batman '66 and Two-Face.
Batman and Robin are back in action to take down their fiendish foes once again with original actors Adam West voicing Batman, Burt Ward voicing Robin, and Julie Newmar voicing Catwoman.

Batman and Robin spring into action when Gotham City is threatened by Penguin, The Joker, Riddler and Catwoman. This time, the four super villains have combined their wicked talents to hatch a plot so nefarious that the Dynamic Duo really have their hands full.
Source: The Hollywood Reporter